Home
/
Signed Contract for Construction of Motorway Section on Corridor Vc, section Mostar south-Počitelj, subsection Buna-Počitelj
Signed Contract for Construction of Motorway Section on Corridor Vc, section Mostar south-Počitelj, subsection Buna-Počitelj
---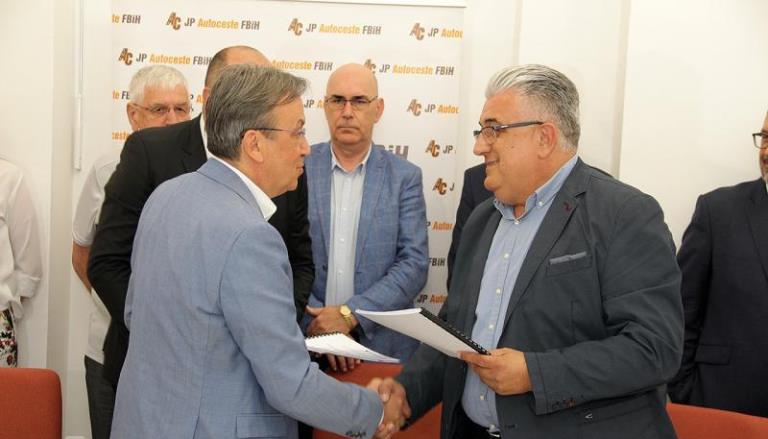 The Contract for the construction of section of motorway Mostar South – Počitelj, Subsection Buna – Počitelj, was signed on 18.05.2018. in Mostar and the value of the works is 25.692.383,53 Euro.
The Contract was signed by the Director of JP Autoceste FBiH Adnan Terzić, Director of Hering d.d. Široki Brijeg Ladislav Bevanda and Federal Minister of Transport and Communications Denis Lasić.
The deadline for construction of this section is 18 months.
Supervision over construction will be carried out by Aecom, USA.
The money is secured through the European Bank for Reconstruction and Development (EBRD) loan.
Description of section
The length of the sub-section Buna – Počitelj is 7.2 kilometers. It starts at about 4 km south of the village of Hodbina. The track does not cross the inhabited area, but passes over the Neretva canyon near several inhabited places and ends just in front of the loop of Počitelj. The route includes two overpasses, one underpass and two crossings for animals, as well as the construction of a two-sided rest area "Rotinski potok".
Proper environmental management will focus on the collection and treatment of sanitary waste water, pre-treatment of rainwater from the parking lot, maintenance of oil separators and municipal waste management.
 
The route does not cross any protected nature or cultural- historical heritage, while the humid habitat of Hutovo Blato (Ramsar area and IBA area) is about 8 km south.