Home
/
Signed Contract for Construction of a new bridge over the river Usora
Signed Contract for Construction of a new bridge over the river Usora
---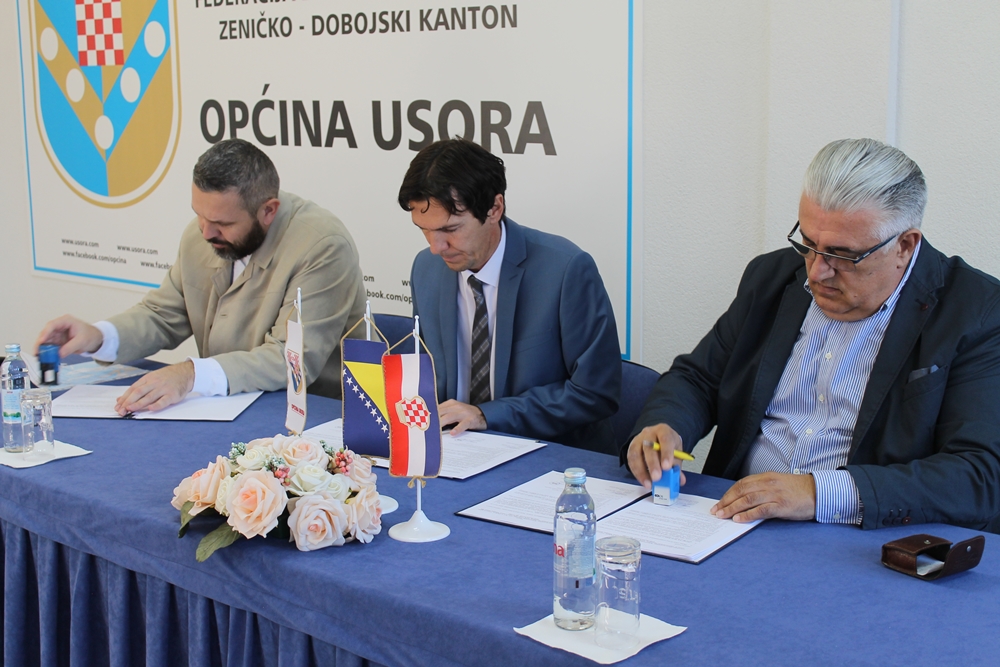 Today, after the open public procurement procedure and selection of the most succesful Tenderer, the muncipal mayor Zvonimir Anđelić, B.Sc.CE. signed a contract for the execution of works on the project: Reconstruction of the M-4 crossroad with the local road for the municipality of Usora, with reconstruction / construction of the bridge over the river Usora in Tešanjka, section 008: Teslić (Barići) -Karuša, km 17 + 900 with director of Hering dd Široki Brijeg M.Sc. Ladislav Bevanda, B.Sc.CE.
The value of the contracted works amounts to BAM 1.623.375,00, which include preparatory works involving the demolition of an existing bridge, the construction of a new RC bridge length 82 m and a 6,6 m width with double footpaths and electric lighting, reconstruction of intersection with the main road by road M-4, reconstruction of the 170 m long access road with pedestrian crossing, as well as the project of a temporary roundabout approximately 250 m long with temporary crossing over the river Usora, approx. 800m upstream from the location of the bridge for the two-way traffic that will be located on the right bank of the river Usora in Žabljak near IMACO SYSTEMTECHNIK d.o.o Usora and on the left bank near the temporary road is in Alibegovci on the local road L-US1 for Usora Municipality.
For the crossing over the river Usora, a pipeline culvert will be built out of the concrete pipes F1000mm which the contractor has to hold until the project is completed. The passport will only be used for pedestrian traffic and motor vehicles up to 2.5t.
The deadline for performance of contracted work is 180 days.
Supervision over the works on this capital project, after the conducted procedure, is entrusted to the Institute of Civil Engineering "IG" d.o.o. Banja Luka